How to Use the Presenter View in Google Slides
Google Slides, like PowerPoint, has different presentation modes that could come in handy when you're presenting. In this new Google Slides tutorial, you'll learn about these and their respective settings.
Presentation Modes
There are three presentation modes in Google Slides.
If you click the "Present" button or press Ctrl/Cmd + F5, your presentation will start without any speaker notes. This is the most usual and the simplest.
Next to the "Present" button there's a drop-down arrow. Click it to display different options:
- Presenter view: In this mode, you'll be able to see the speaker notes, check the timer and adjust other settings, such as questions from the audience. For more information about the speaker notes, please refer to this Google Slides tutorial.
- Present from beginning (Ctrl/Cmd + Shift + F5): Your presentation will begin from the first slide.
- Present on another screen: Your presentation will be shown on a different screen via a media display device, such as Chromecast. This option will be available only if there's another screen available. 
Choose the desired mode according to your needs.
Presenter View
The presenter view offers several options and settings. Let's check them out:
Previous slide, Play, and Next slide: These buttons allow you to continue to the next slide or go back to the previous one. If you click "Play", the slides will advance automatically (by default, every two seconds—you can change this from the "Settings" button).
List of slides: Open the list to select which slide to display.
Q&A: If you have the Audience Q&A option enabled, you can open its panel by clicking this button. For more information, please refer to this Google Slides tutorial.
Notes: This enables the speaker notes and makes them visible. If you click this button, you might exit fullscreen mode. To go back to fullscreen, press Ctrl/Cmd + Shift + F or click the "Fullscreen" button. For more information, please refer to this Google Slides tutorial.
Pointer: You'll see a red dot on the screen, which you can move around to point out any element from your presentation.
Captions: If you have a mic, you can enable captions. Click the drop-down arrow to adjust the size of the text and its position on the screen.
Tips: If you click this button, a window will pop-up, containing different useful keyboard shortcuts for presenting.
Full screen: Click this button to enter or exit fullscreen mode.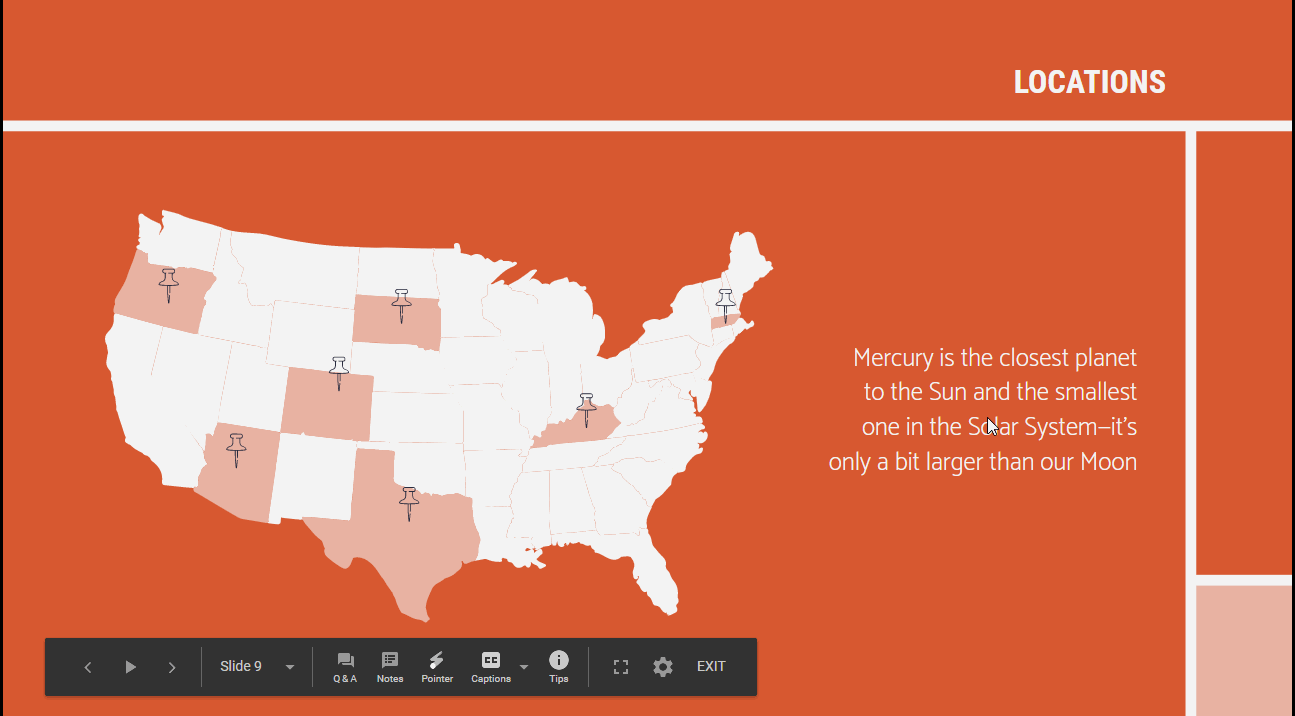 Settings: Click to access several options, such as adjusting the auto advance time, opening the speaker notes or downloading the presentation in different formats.
Exit: Click "EXIT" to finish the presentation or just press Esc.
---
Do you find this article useful?