How to Insert GIFs in a Google Slides Presentation
There are many and varied ways of captivating your audience with your presentation. One of them is using visually appealing materials so people cannot take their eyes off the slides. In fact, a clever use of GIFs and other images will help you when defining concepts in a cool and modern way. In this post we'll teach you how to add GIFs to Google Slides themes easily.  
Adding a GIF from your computer
Adding a GIF image from your computer is an easy task. Let's explore how to do it. But first, as we are going to use some Illustrations by Freepik, you can read this tutorial about how to edit, add and download Stories illustrations!
Open your Google Slides theme.
If you want to insert a GIF or change a default one, you can do so.
Go to the left corner and, in the toolbar, click on Insert, select Image → Upload from computer.
Choose the GIF you'd like to embed and click Open.
Move the image if needed in order to adapt it to the design and layout of your slide.
If you want to resize it, click on the GIF image and the outline appears. Click on any of the blue squares and drag it while you press Shift. This is helpful to keep the image proportioned!
Inserting a GIF Using URLs
You may prefer using GIFs online instead of downloading them. No problem! Google Slides also gives you the possibility of adding an image by URLs. The process is very much like the previous one. 
Search for the GIF you would like to add.
Click on it → Right click → Copy Image address. For instance, we are going to use some Stories illustrations by Freepik here.
Open your Google Slides theme.
In Insert, select Image → By URLs.
Paste the link (Ctrl V or Cmd V in Mac).
Move the image if needed.
If you want to resize it, place click on the GIF image and the outline appears. Click on any of the blue squares and drag it, but don't forget to keep Shift pressed!
Editing a GIF in Google Slides
Google Slides provides a series of tools to change the style of your GIF: you can modify its color, transparency, add animations and so on. Let's have a look at them.
Click on the image.
Select Format options.
Select Recolor to change the hue of the GIF.
Click on the drop-down menu and choose any of the available options.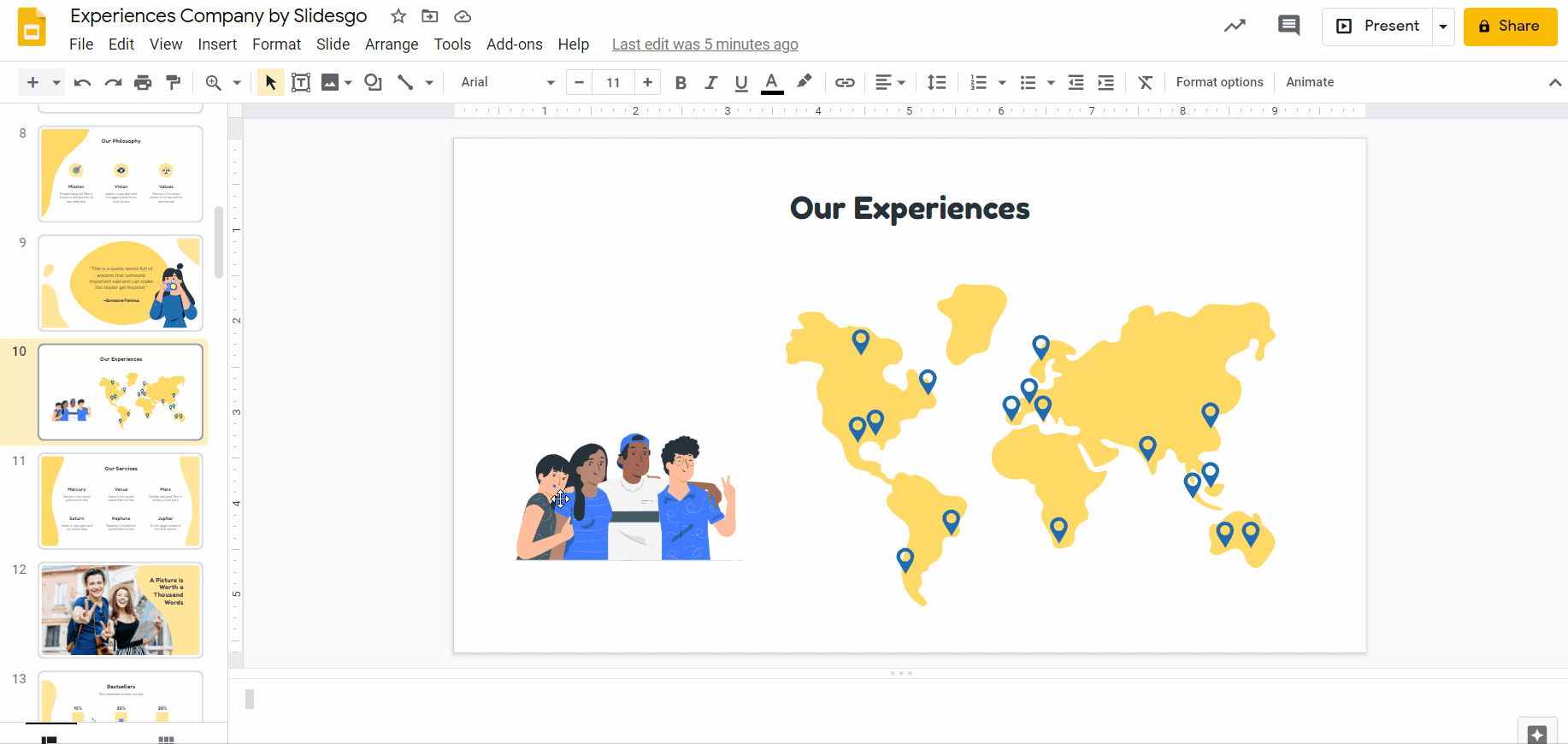 Click now on Adjustments. It displays a series of options that you can customize, namely three: Transparency, Brightness and Contrast. You can adjust them using the sliding bars.
If you are not happy with the results, click on Reset to undo the previous changes.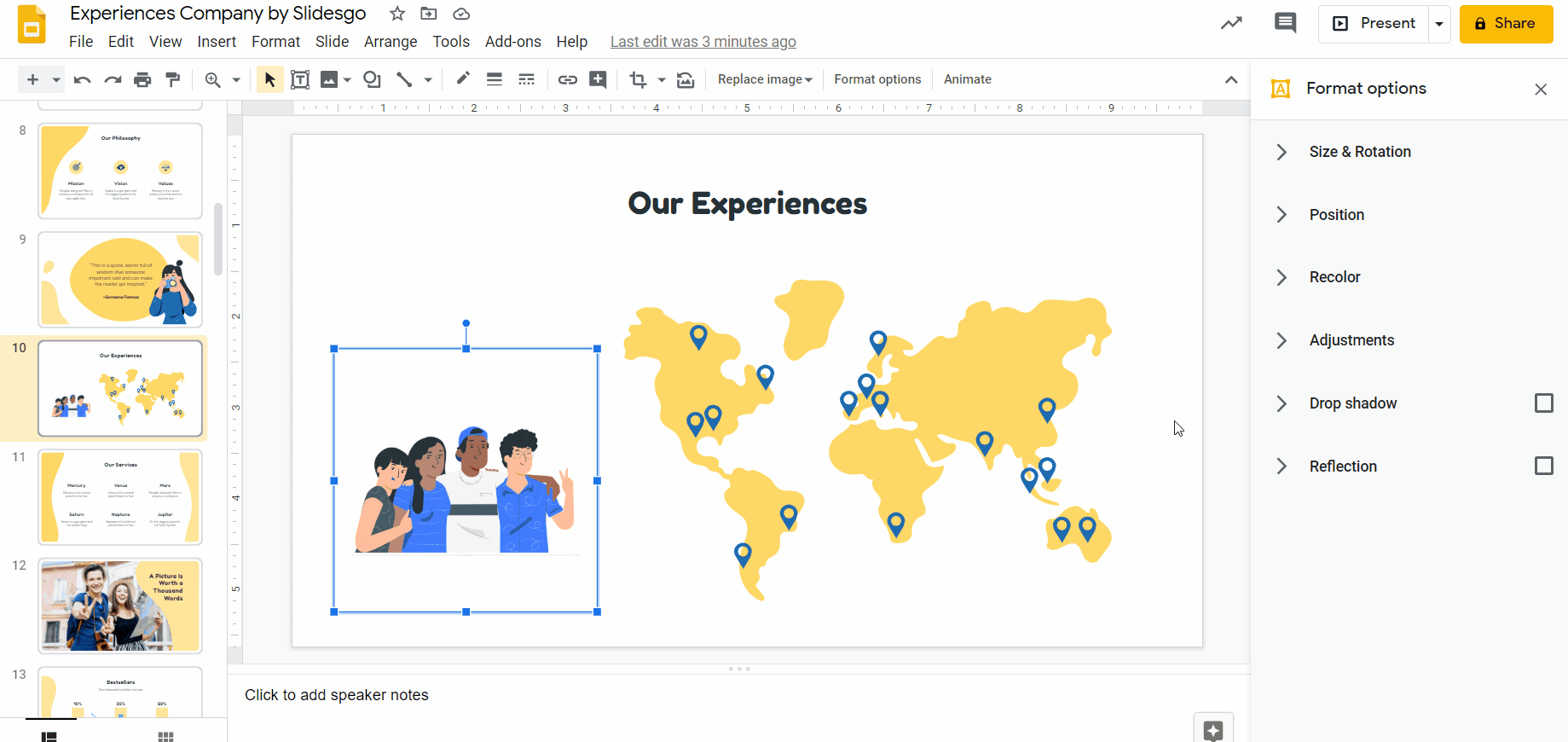 Those are not the only effects that you can apply to GIFs. If it is in consonance with the design of the template, you can also add a drop shadow under it: 
Click on Drop shadow.
Choose a color.
Change its Transparency, Angle, Distance and Blur radius if needed using the three different sliding bars.
To delete the shadow that you have just created, unselect the Drop shadow button.
If you want to apply a reflection effect to the GIF, Google Slides includes this option. Click on the Reflection dropdown menu.
Regulate its Transparency, Distance and Size to tailor it to your needs. For this example, we are only going to show you the features, we are not going to apply any reflection.
To catch your listeners' attention, you have the possibility of animating the embedded GIF. You can have a look at our How to Add Animations and Transitions in Google Slides, although we will give here a GIF with the main animation and transition features: 
Pro Tip: It's not recommended to add too many effects to your GIFs, as they may crash or look unprofessional. 

Finding the perfect GIF can be easy! Stories by Freepik is a new project that offers illustrated concepts that can help you reinforce your messages in a visual way.  

You can create your own story with several characters, animate them, change their color and the elements in the background. If you want to know more about how to create these awesome illustrations, read about Stories by Freepik: Awesome illustrations for creative presentations:

They are completely free, 100% editable and you can export them as .gif or video files. Create and download as many as needed! 

Did you like the Experiences Company Presentation that we used in the pictures of this tutorial? Download, edit and use it, it's completely free!