How to Add, Duplicate, Move, Delete or Hide Slides in Google Slides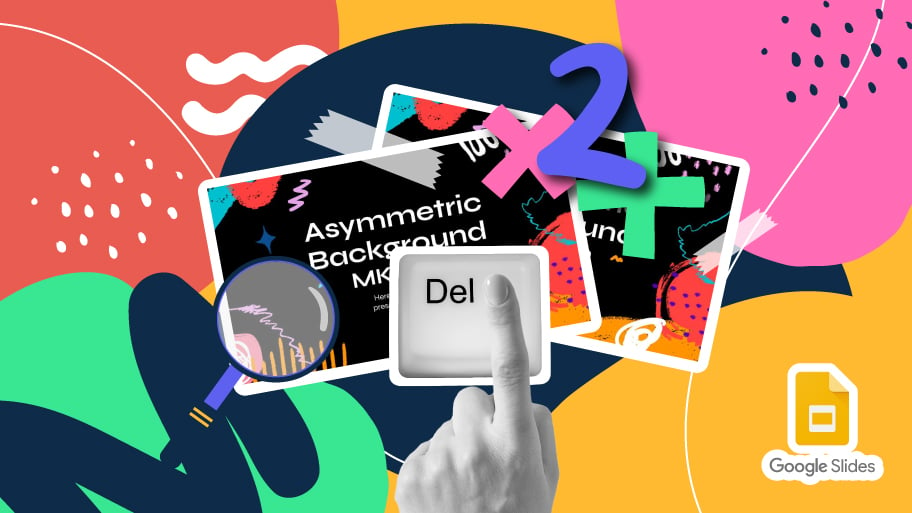 When using a template to work on a presentation, you might want to create new slides, keeping the design included in the template. Or sometimes, you might prefer to duplicate an existing slide to reuse its elements, such as text boxes. In addition to this, you can perform other actions, such as deleting slides, moving or even hiding them so that they're not visible during your presentation.
In this tutorial, you'll learn how to do all of this to turn any of our templates into your own presentation.
How to add a slide in Google Slides
First, let's talk about how you can create a new slide from scratch. There are many ways to do this. Here's the easiest one: select any slide and press Ctrl + M in Windows, or Cmd + M in Mac. A new slide will be created with the same design as the one you selected.
You can also select any slide, go to the toolbar and click on the "+" button, located in the top-left corner of the screen. After clicking on it, a drop-down menu will appear, where you can choose the design that you want to apply to this new slide (remember that it will be created below the selected slide).
Let's see other ways to create new slides:
 a. Right-click on any of the thumbnails → New slide.
b. Click on Slide → New slide.
How to duplicate a slide in Google Slides
The more, the marrier. Sometimes you want to repeat the same design or reuse a certain layout. Duplicating an already existing slide is very easy!
To duplicate any slide, select it, right-click on it and choose Duplicate slide. Or you can just click on Slide → New slide.
How to move a slide in Google Slides
To move any slide, select it and drag it to the desired position.
How to delete a slide in Google Slides
You can also delete slides. To do this, just select on the slide or slides you want to remove, right-click on them and choose Delete. Or just select them and press the Delete or Backspace keys.
How to hide a slide in Google Slides
By hiding a slide, you prevent it from showing up in your presentation without deleting it. To do this, select the slides that you want to hide, right-click on them and choose Skip slide. You'll see the icon of a crossed-out eye, which means these slides won't be visible in the presentation. To make them visible again, just repeat the same process.
If you want to keep learning about Google Slides, stay tuned for more Slidesgo School content. We also have tutorials on how to work with presentations in PowerPoint, so check them out too. Learn with us and use our templates to create awesome presentations!
---
Do you find this article useful?