The 5 most visited templates of 2020
There's only a couple of days left in 2020 and, before welcoming 2021, we wanted to share with you the templates for Google Slides and PowerPoint that our users visited the most this year. 

We're going to begin with the fifth-placed template, going up one place at a time until we get to the template that was the most beloved by our users during the last twelve months. 
Minimalist High School Weekly Planner
This multi-purpose slide deck is versatile thanks to its 100% editable structure, making the slides totally adaptable to your needs. In this case, it'll work as a weekly planner.
There's a combination of different colors, such as light red, green, gray and white, among others, providing simplicity and elegance. Furthermore, this template is available in five different color variants: pink, blue, yellow, purple and pink. Here's how its blue variant looks: 
There are slides where you can make notes, create to-do lists and customize a calendar, with which you'll keep track of everything you need to remember. 
If you need some good planning in your life for 2021, download the Minimalist High School Weekly Planner template for Google Slides and PowerPoint. Thousands of users already did!
Papyrus History Lesson
History lessons are much more fun if you show some important data relevant to the topic on top of these old-looking backgrounds that resemble papyruses.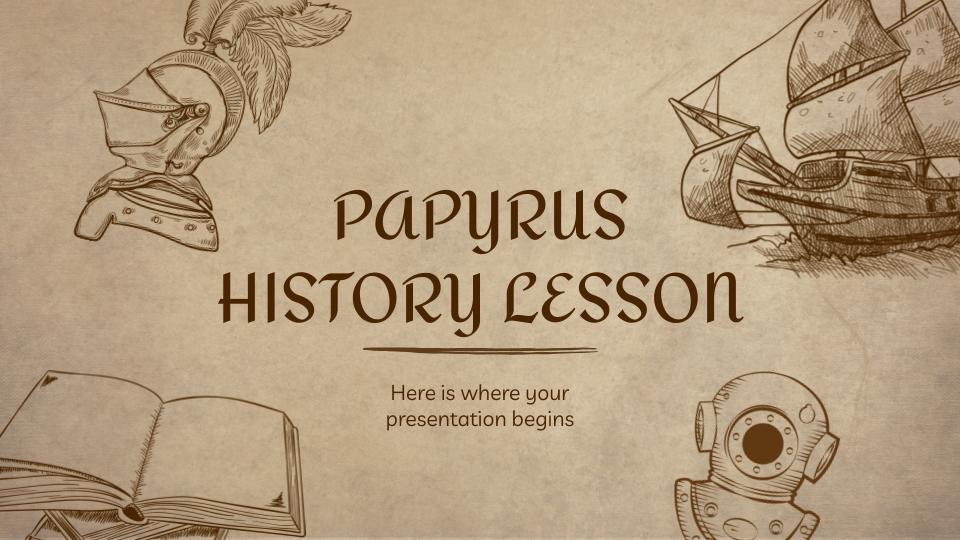 This template has been quite a hit among teachers and educators this year. Your students will remember your lecture as they watch these slides and their illustrations of ships, medieval armor, Egyptian imagery and so on. 
We'd like to highlight the typography—its hand-written aspect is original and fitting. The layouts are easy to edit, and its "Alternative Resources" slide is packed with beautiful drawings tied to different periods of history.
Take your students back to the past without leaving the classroom by using the Papyrus History Lesson template. They'll look forward to it! 
Stay Creative
There's no denying that we've spent quite some time at home in 2020. COVID-19 has made us change some habits and look for other types of activities with which to enjoy our free time. Being aware of this, we have a presentation to encourage creativity at our own house.
This template, featuring abstract shapes that move away from the conventional and a typography that is a pure reflection of creativity, will put many restless minds to work. 

The assortment of slides included are suitable for explaining a cooking recipe, or for giving some instructions on how to do yoga, or whatever you can come up with! Any activity that can be done at home is good for being represented in these slides. 
ersatility and energy, these are the two main factors that made the Stay Creative template one of the most visited ones. Download it and run Google Slides or PowerPoint to start enjoying it!
Puress Online
This presentation is a safe bet when it comes to impressing everyone. Watercolor always works!
Convey your points with ease, no matter how demanding your audience is. Besides, this template contains infographics, graphs, tables and other resources that contribute to making your data as clear as possible.
Have a look at the Puress Online template. You'll realize why it's so popular! 
Online Notebook
This is it! The most visited template for Google Slides and PowerPoint in 2020 is Online Notebook. 
It's a presentation whose slides look like a real notebook, with a combination of school elements that will make your students feel 100% identified. You will find details such as pencils, pens, post-it notes or markers. In addition to that, there's a hand-drawn typography that fits like a glove in this template. 
 
Begin the next school term by powering up your classes with the help of the Online Notebook template.