Create Engaging Presentations for Your Online Classroom
Teachers of the world, we are here to help you!  

Due to the coronavirus pandemic, schools worldwide are transitioning to a completely new model of education: in-person classes are out, distance learning is in. As schools adjust to this new normal, teachers everywhere are scrambling to find the resources they need.  

Slidesgo can help. Check out our free templates for education and create presentations that are effective, engaging and interactive. They are free, fully-customizable, available in Google Slides and PowerPoint formats and easy to integrate into platforms such as Google Classroom.  

Of course, creating engaging presentations can be a difficult and time-consuming process. So here are some tips for making more effective presentations for distance learning. 
Find a great template that fits your age group and subject
Don't start from scratch. Find a template! This one simple action will save you an enormous amount of time and effort. Once you have the right template, customize it to suit your needs. At Slidesgo we have made the searching process easy for you, allowing to search by keywords and filter your searches by topic, style, color and more
Make ONE presentation per subject
Online teachers are often overwhelmed by the sheer number of documents and messages that they have to deal with every day. But don't overload yourself by creating a separate presentation for every class session or topic. The key here is simplicity.  

Try a different strategy: make just ONE presentation per school subject and add to it as you go. Share it with your students and update it as needed, so it serves as both a teaching tool and a record of what has been learned. And as your presentation gets longer, make it easy to navigate by adding a simple table of contents with links to individual slides or sections. 
Don't overload your slides with unnecessary text
Forget long sentences. Get straight to the point with concise sentences that express key concepts. This is a basic principle for all presentations but it's even more important for distance learning, where visual learning is key. Students don't pay attention to slides that are full of lengthy texts. Their attention goes straight to the images and the way the information is presented graphically. But be careful -- don't overload your slides with images either, or else it will end up looking overcrowded and confusing. Great presentations focus on presenting key ideas with minimal text, concise messages and clear visual organization.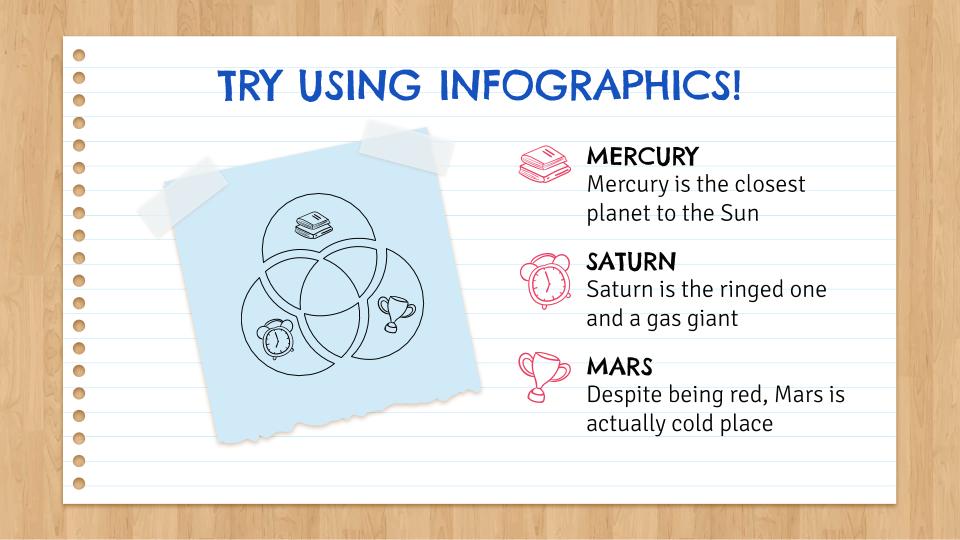 Enrich your presentations with audio and video
First-time presentation makers usually focus just on text and images. But slides have evolved and expert teachers take advantage of new features to enrich their presentations. Try using an animated gif instead of a still image and you'll find that conveys your idea much better. Don't be afraid to use super-short audio and video clips: they are just as easy to insert as a still image and they can add a whole new dimension to your presentations.  
Use mind maps!
Mind maps are a great way to organize and present content and concepts. They are great to use at the both beginning and end of a unit, when you're introducing a topic and also when you're summarizing what's been learned. They give students an idea of the "big picture" and help them remember key ideas. Mind maps organize information into a logical hierarchy, allowing you to move from a general topic, to key concepts and then to examples. Finally, mind maps give a graphic representation of the relationships between ideas, which promotes deeper understanding. If you've never used mind maps before, check out the examples at Slidesgo and get started!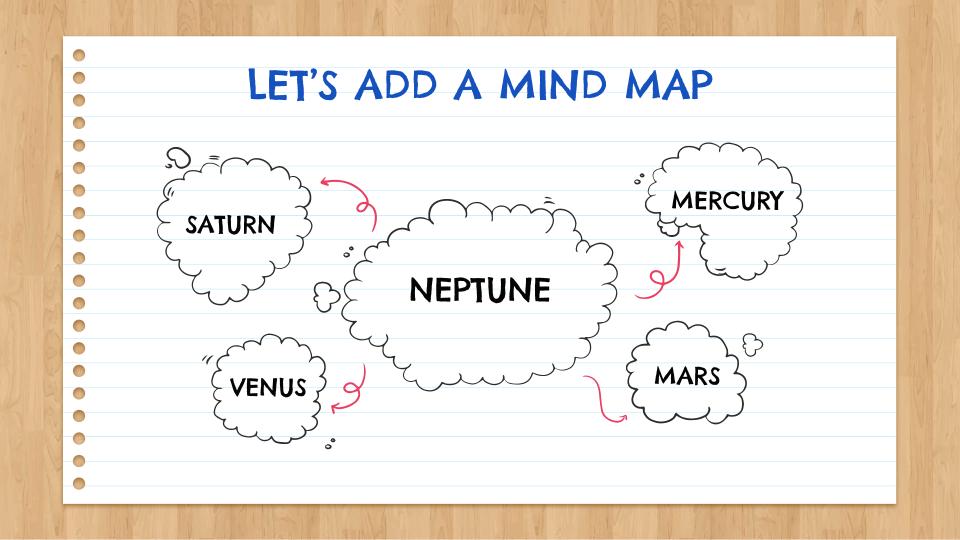 Try more graphic organizers
Graphic organizers are extremely powerful tools for online learning. If you are a beginner, start by inserting a simple table into your slides to organize information or label images. Next, try using an organizational chart or a graph. Get familiar with the tools from templates to add text fields, bubbles and arrows to connect the parts. You're off and running! 

There's such a wide range of graphic organizers, from flow charts to concept maps, timelines to Venn diagrams. There's no end to the ways that you can present information visually. At Slidesgo you'll find presentations and slides with special features for education to make it easier for you to add mind maps and other graphic organizers to your presentations.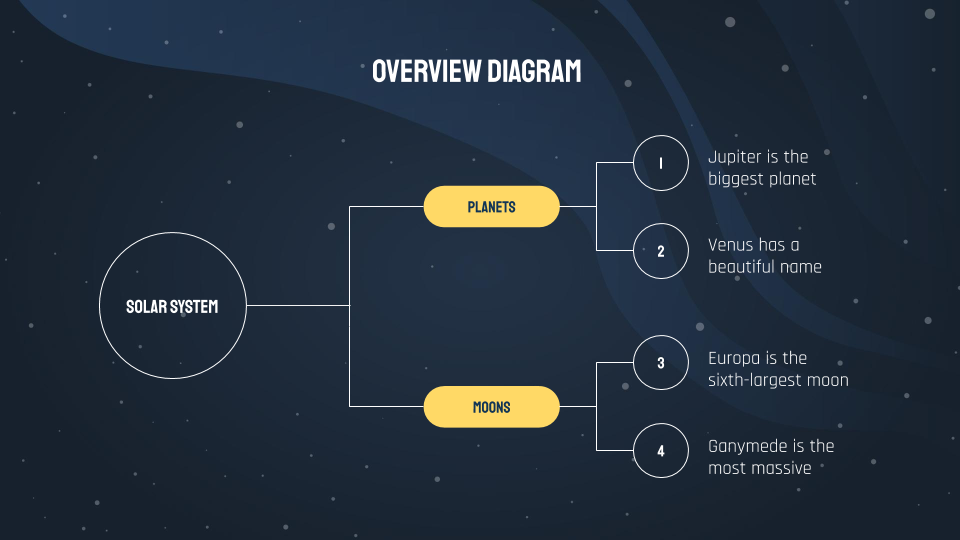 Make flashcards
Now here's a simple but effective idea. Flashcards are a great way to present information in bite-sized chunks for students to learn and study. Slide presentations are the perfect way to make flashcards, for any subject at any level. Why not use a slide presentation to make a glossary of new vocabulary? You can include the written word, a picture, audio, video or even have your students collaborate to make their own.  
Make your presentations engaging and interactive
Remember that presentations are more than just presenting! To take your presentations to the next level, they should make your students think and encourage them to do something with the material. One simple way to do this is by using links. You can connect your presentation to external websites where your students can do online activities or games and practice what they are learning. Or link your presentation to another document where you test their learning. Finally, remember that your presentations are a great place for you to showcase your students' work. They will love it if you incorporate what they have done into a presentation for the entire class. 
Turn your presentations into stories
We all love stories! When students feel that there is a story behind what they are learning, it gives them a narrative that connects the parts to the whole and makes their learning more personal and motivating. Include pictures of people in your presentations. Give them names and personalities and bring them to life by animating them. If you think this is impossible, try using Stories by Freepik to choose and animate personalized images. It will add a touch of storytelling to your presentations that your students will love.  
Distance learning places great demands on teachers and requires new tools and solutions. Slidesgo aims to help you by providing presentations that are free, customizable and easy to use.  


Teachers of the world, thank you! 
---
Do you find this article useful?