Brutalist style: concept and examples of this modern and disruptive design
Art is the visual expression of the feelings of artists. Through paintings or sculptures you can perceive their emotions: sadness, joy, anger, fear...
An artistic style through which feelings and emotions are also expressed is the brutalist style, which is currently gaining great importance in graphic design.
As might be expected, in Slidesgo we are designing templates for Google Slides and PowerPoint based on this modern and disruptive design. However, in order to appreciate the charms of this style and use it in your presentations, you first need to understand what it wants to express. So let's talk to you about brutalist art. Here we go! 
What is brutalist style or art and how is it defined?
Brutalist art is another expression of feelings and emotions, in this case, it is characterized by the lack of concern for looking easy or comfortable. It is also considered a reaction of the new generations against the optimism and frivolity of current commercial design.
Although the brutalist style is beginning to set a trend in the world of graphic design, if we want to look for its origin, we have to go back to the 1950s, to the Modern Art Movement and the architect Le Corbusier. In fact, it was this famous architect who gave the style its name: "brutalist" comes from the French béton brut, a concept that Le Corbusier used to describe his materials.
Thus, brutalist architecture was characterized by the use of concrete and repetitive geometries. We can speak of very risky and modern structures, perhaps even a little raw, but the end result being very striking.
It is from these ideals of the architecture of this style where the brutalist trend in graphic design lays its foundations, to express feelings and emotions through graphic art.
Examples of brutalist style templates
After this small art history lesson you will want to see some examples of presentations with a brutalist design, to start enjoying the hidden details of this artistic trend as soon as possible. We have selected three templates for Google Slides and PowerPoint that represent this style in all its splendor.
Brutalist Palette Style Thesis
To enlighten you on the way to understanding brutalist art, we want to show you the template 
Brutalist Palette Style Thesis. The purpose of this presentation is to achieve a design that does not follow the art classical rules, meaning it's not visually easy to perceive, given its naughty character.
The disorderly style is perfectly in sync with what the brutalist style is all about: to appear unworried, but deep down everything is perfectly calculated and measured.
This template is designed to present your thesis and, of course, stand out from the crowd.
Stroom Newsletter
This template composed to present a Newsletter is a clear example of the brutalist style. Modern elements that break with the classic art conception and an image that gives the impression that the design has been made in a simple way, and yet it is very elaborate.
As can be seen, the design is raw or may seem to lack elaboration, but striking at the same time, as that is the reaction the brutalist style wants to achieve.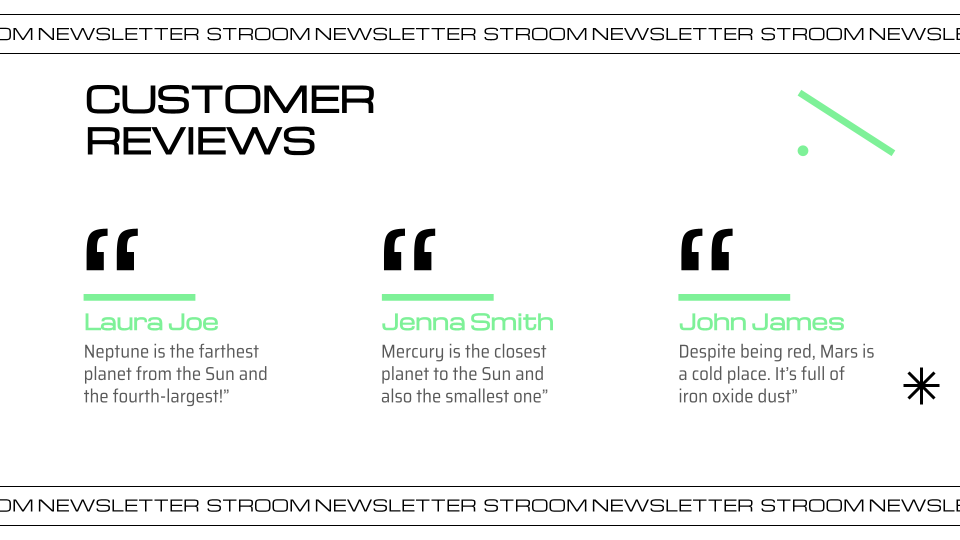 If you want to use a modern and brutalist style presentation to let your subscribers know the latest news and news about your brand, download the Stroom Newsletter template for Google Slides and PowerPoint.
Celestial Style MK Backgrounds
Finally, let's take a look at this template called Celestial Style MK Backgrounds. This presentation is useful in order to demonstrate that the brutalist style follows its premise of attracting the attention of everyone who sees it, regardless of the shade of colors used.
Geometric shapes and an abstract style in perfect harmony with the brutalist concept is what you will find in these slides.
The number of elements and how they are positioned increase their complexity and recreate a design that does not conform to standards.
Download this free celestial style background presentation and give it that different touch you are looking for.
These are just three examples of brutalist design. However, on Slidesgo you can enjoy a wide variety of free and premium brutalist style templates for Google Slides and PowerPoint. These presentations are full of personality and are very risky, but you know the saying, who dares, wins!
---
Do you find this article useful?